A Uniform Force
September 30, 2008 | Kevin Zdancewicz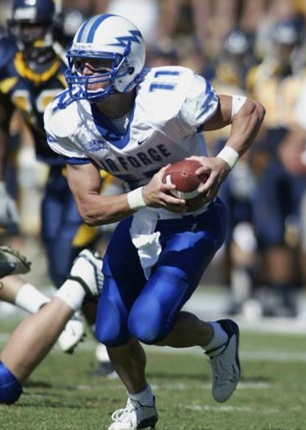 We've been staying positive around here at JOTW lately, talking about some great-looking throwbacks. The upbeat vide continues with this week's featured uniform: the Air Force Falcons football team. Before you ask, there's no specific reason for highlighting this jersey this week: I just love the way it looks. Sometimes the pure aesthetics of sports uniforms get lost in the shuffle of merchandising and the big business of jersey sales. Not to get too philosophical here, but what is a uniform for? Sure, it's meant to distinguish one team from another and create an identity for a school or franchise, but at the same time, a uniform is supposed to look pleasing to the eyes of fans. Every once in a while, you need to just take a step back and admire a great jersey.
If the Commander's-in-Chief's Trophy (annually given to the best football team among Army, Navy, and Air Force) was awarded to the service academy with the best uniforms, Air Force would probably win it every year. Sure Army and Navy's jerseys have tradition, but they lack creativity – and the blank helmets are downright boring. Air Force has a perfect balance of simplicity and appropriateness with the forceful bolt logo on the side of its helmets and rocks uniforms with one of my favorite color combinations in royal blue, silver gray, and white. The early 2000s uniform in the feature photo is one of my favorite college sets ever (as you may recall my affection for solid color pants) and looks great with the blue jersey as well.
Another reason these jerseys hold sentimental value for me is I would often play Air Force in NCAA Football '03 to run Chance Harridge and the triple option. The Falcons were like a video game in real life with their gimmicky offense that was a lot of fun to watch, though a bit ironic given Air Force's devotion to the running game. Anyways, Air Force's jerseys have been "modernized" in recent years and look all right from the front, but not so great from the side. I also don't like the white helmet with silver pants combination, even when coupled with a nice lightning bolt down the leg (but slap that on a pair of white pants and I am game).
Photo Courtesy of Jamd