Clashing Pinstripes
September 7, 2008 | Kevin Zdancewicz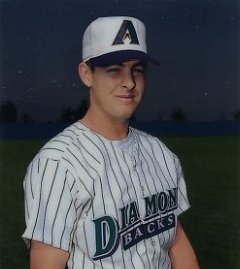 I played on the Diamondbacks in my local Babe Ruth baseball league when I was fourteen and fifteen years old, and while we used the black snake hats, I actually own one of the white hats pictured in this week's featured uniform. But the white hat itself is not the real reason for bringing up Arizona's 1998 look; it's more for the brilliant idea of pairing the pinstriped jerseys with plain white hat (that's sarcasm, folks). Pinstripes have long been a tradition in the MLB, going back to at least 1907, but it's never a good look to wear a hat with a solid crown when your white jerseys have pinstripes. That clash was part of a rather expansive uniform package for the expansion Diamondbacks. While the original designs and multiple hats were a little much, they settled into a single home and a single road design and toned down some of the craziness by the second year of the organization's existence.

Maybe it shouldn't be such a surprise that Arizona would go with the clashing white-and-pin stripe look as it was really only the start to an interesting uniform progression for the Diamondbacks. For example, what other team features hats that were worn so infrequently, that this is probably the best game photo available of them? Or used a helmet design for only one season when it didn't even exist as a hat? Throw in the jersey/hat mismatches and the fact that the team was the only purple-clad baseball team before changing its colors last year, and the Diamondbacks undoubtedly have had one of the most frantic and noteworthy uniform histories in recent memory.
Most of the links in this column go to a site devoted Diamondbacks uniform history and features photos of virtually every Arizona uniform combination to date, which is impressive given that there have been so many jerseys in the franchise's brief eleven year existence. The gem of the lot is a shot of the Diamondbacks' 1999 Turn Ahead the Clock jersey. I talked about the MLB future jerseys in a previous column and wished that we could see what Arizona's wrap-around snake uniforms would look like with names and numbers. Well, I got my wish. Pretty crazy right? Now, if we could just figure out what was on the hats…
(Update: I recently got a couple new photos of the Diamondbacks' white hats with pinstriped jerseys. Check them out.)


Photo Courtesy of Andrew Thomason