A Pink Memorial
February 10, 2009 | Kevin Zdancewicz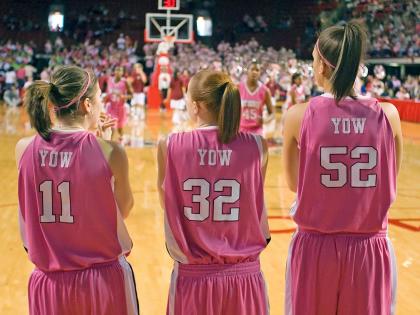 When I put together a Jersey of the Week column, I try to find an action shot that gives a good view of the featured uniform. However, the essence of this week's jersey is most vividly captured not in an action shot – and not even with a view of the front of the jersey – but with the photo above: team unity, matching nameplates, and lots of pink.
Chances are you already know that those uniforms belong to the NC State women's basketball team. The team's coach, Kay Yow, recently died after a long battle with breast cancer. Yow is a Hall of Famer, who currently ranks fifth in NCAA Division I women's basketball wins and is the namesake for the court at NC State's Reynolds Coliseum. Following Yow's death in January, NC State has made a number of uniform additions and alterations in tribute to the legacy of Coach Yow. It has become commonplace for teams to produce a memorial patche, decal, or black band for their uniforms and helmets to honor the life of a recently deceased member of the organization – player, coach, owner, administrator, team official, scout, announcer, family member, student. You name it, it's been memorialized on a uniform. In honor of Kay Yow, the Wolfpack have replaced their red road uniforms with solid pink complete with team-wide "Yow" nameplates. Their home white uniforms are now trimmed with pink and feature a similar nameplate tribute. In addition to pink sneakers and warm-ups, NC State has also added a heart memorial patch and a pink ribbon to the front of the jersey.
Other teams have joined in honoring Kay Yow. The NC State men's basketball team added a Yow memorial patch on its jersey. ACC opponents Clemson and North Carolina have worn uniform tributes and there are a number of other examples of teams showing support. Many of these memorial actions are coinciding with this season's annual round of special uniforms to promote awareness of breast cancer. The Women's Basketball Coaches Association has sponsored its "Pink Zone" (formerly "Think Pink") awareness campaign since 2007 – encouraging teams to wear pink uniforms for the breast cancer cause. UCLA, Louisville, Kansas and Nebraska are just a few of the many schools to have participated in the program. The WNBA also has similar awareness programs and has conducted similar pink uniform nights. A seemingly unlikely pink promotion comes from Major League Baseball, which encourages players to use pink bats and wear pink wristbands on Mother's Day to promote breast cancer awareness. It's all part of the effort to someday keep anyone with cancer in their seats for as long as possible.
(Update: Add our own Virginia Cavaliers to the list of teams that have worn pink uniforms and shoes to promote breast cancer awareness.)

Photo Courtesy of ACC Fan Blog