Blackout in Oregon
March 2, 2008 | Kevin Zdancewicz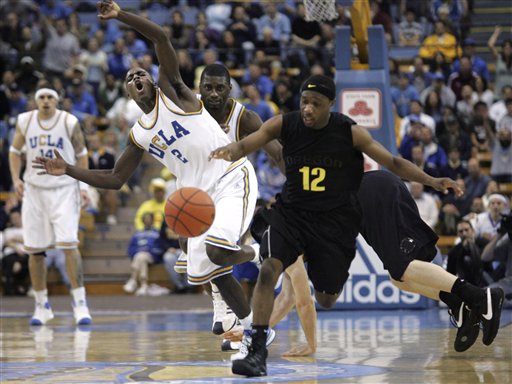 One of the first things I notice when I turn on a game is whether one of the teams participating is wearing a new uniform. I tend to notice small detail changes, as well as full-scale redesigns, but sometimes there are new jerseys that draw everyone's attention and even spark conversation in the sports world.
This week's featured jersey is for the University of Oregon basketball team, which debuted the look ten days ago. You might not have been able to tell who that was above, since the Ducks opted to put their lettering in either black or dark green (it's hard to tell which) on a black jersey and hope that a shiny material would make up for the lack of distinction. It ends up looking like Oregon is playing in dark practice jerseys with bright yellow numbers when the team comes up the court. Add in the fact that the jerseys are part of Nike's System of Dress uniform program, where teams sport tight jerseys and ridiculously baggy shorts, and the new look is just a complete disaster.
As many of you may know, Oregon is no stranger to outrageous uniforms. Nike co-founder and former CEO Phil Knight is an alumnus and a big donor, so Nike has essentially been given permission to use Oregon as the apparel empire's personal guinea pig. The football team possesses a number of uniform combinations that would make a probability student cringe, including bright yellow sets that have blinded gridiron fans the last few seasons. The basketball team has steadily begun to follow suit with their latest hardwood experiments. And with Oregon resurrecting its baseball program next year, chances are we will see something "revolutionary" for the Ducks on the diamond, though I wouldn't be surprised if it ended up looking like this or one of these. Anything is possible (aesthetically) when Oregon and Nike get together.

(Update: Oregon now is apparently going for a white-out with a new look unveiled for this basketball season. Also, it turns out I was right to warn you about what might be coming with the new Oregon baseball uniforms.)

Photo Courtesy of ESPN.com