The Best Players, Not the Best Uniforms
February 25, 2008 | Kevin Zdancewicz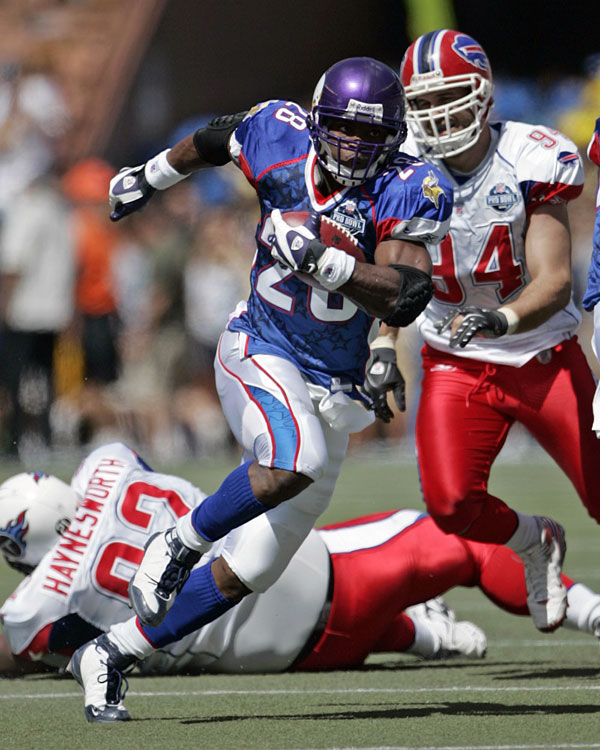 While the game itself is pretty lame and rather sleep-inducing, one thing the Pro Bowl does elicit is some, well, interesting uniform conversation. The most noticeable element is that players wear their regular team helmets with the red, white and blue Pro Bowl uniforms. This causes a lot of clashing, as only a handful of teams use such patriotic colors on their headgear. The AFC uses red as its dominant color and the NFC uses blue, but something that I just learned (because who pays too much attention to the Pro Bowl?) is that new uniforms are introduced every two years. That means that the same design is used for two straight games and, therefore, this year's design was also used in the 2007 Pro Bowl.
The 2007-2008 concept is featured at the top of the page. They remind me a little bit of the Atlanta Falcon's design, with the multiple color panels on the shoulders and the interesting knee piping. However, the uniform template is taken up a notch with the additional side piping as well as the stars on the body of the jersey and the pants stripe. It's not a terrible design, but it's difficult to watch during the game with all the multi-colored lines and side panels mixing between the two teams.
The Pro Bowl uniform concepts are something that no NFL team would ever introduce, but that's not much of a surprise since the traditional gameplan for the Pro Bowl seems to be to design the craziest jerseys possible. Actually, the real mantra seems to be to take the American flag, throw it in a blender and design what that might look like on a football uniform. The 2005-2006 uniforms had a nice layout but I thought the stars along the sides looked a little tacky. The idea that the Pro Bowl should feature designs that teams are too afraid to implement is given strong evidence by some of the other jerseys from years past. I hope you enjoyed the game yesterday, that is, if you were able to look past the aesthetics to watch it.

Photo Courtesy of NFL.com