Over-Under Wordmarks
March 17, 2009 | Kevin Zdancewicz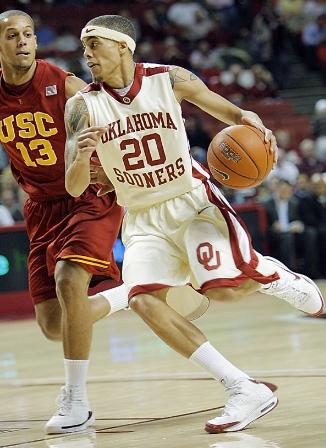 On a recent Sports Illustrated cover, the magazine featured its picks for the Elite 8 in a pretty cool picture. (Interestingly, the teams SI chose ended up receiving the top eight seeds in the tournament) Aside from the creativity of that cover photo, one thing specifically jumped out at me. Notice potential National Player of the Year Blake Griffin of Oklahoma on the far left. If you watch a lot of college basketball, you are more accustomed to seeing Griffin in this jersey. Can you spot the difference?
Continuing with Fanatic's March Madness focus this week, the featured jersey above comes from the South region's No. 2 seed Oklahoma Sooners. By now you have probably observed that the OU jersey above and on the SI cover presents "Oklahoma" above the number and "Sooners" below it. Otherwise identical to the team's regular home jersey, this particular uniform appears to have been worn only once this year, in an early-season game against USC. Very few teams wear a layout similar to this, with the school name above the number and the nickname below it.
Originally, I thought OU was the only team to put the school name and nickname on the front of the jersey, but I came across one other team solely because they played the Sooners this year. The University of Utah (No. 5 seed in the Midwest) also has this layout on their road uniforms and takes it a step further as their home white jerseys feature "Runnin' Utes" arranged above and below the number. I would venture to say that these are the only two schools with school name and nickname on the front of their jerseys and that Utah is the only team to put a two-word nickname over and under the number. (If you know of other examples, by all means, let me know. There are over 340 Division I basketball teams, after all)
What makes Oklahoma and Utah's use of this lettering style further notable is that you usually only see schools with two words in their names going with the over and under the number look. North Carolina is a well-known example. Schools with State, Tech, or even College in their name are also common. Universities named after historically-significant people, like George Mason, often use the layout style, as do directional schools.
I keep writing something wordy like "above and below the number" to describe this jersey layout – ensuring that it will not catch on in the vernacular. I did some extensive research and have been unable to come up with an official name for the style. I'm not sure what to call it. I was originally going to go with "double-decker wordmark," but that seems much more appropriate for the look of Oklahoma State or Texas Tech (a few years back). "Bi-level wordmark" is a possibility or "over-under wordmark" – as in a shorter version of "over and under the number wordmark." Further suggestions welcome, but no matter the name, at least now you have something to keep an eye out for in the tourney once your bracket is inevitably ruined.


(Update: Add Old Dominion University from a few years ago to the select list of schools with an over-under wordmark that includes the team nickname.)


(Update 2: Here's an example of the over-under wordmark from the NBA's Detroit Pistons. Here's another example of a double-decker wordmark from Louisiana Tech.)


Photo Courtesy of SoonerSports.com; Thanks to Jordan Sogn for pointing me toward that link.