Indiana State of Mind
February 25, 2010 | Kevin Zdancewicz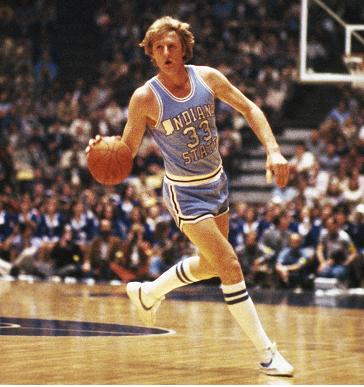 About a month ago, Indiana State wore throwbacks to the Larry Bird era. I'm pretty sure I had seen those jerseys prior to last January, but at the time I must not have thought much of the most obvious aspect of the jersey – the use of the Indiana state outline as the letter "I" in the wordmark. That's amazing in retrospect since it's such a unique design element that really jumps out at you (and is so ripe for a JOTW column topic). While the sheer number of sports, leagues, and teams – past and present – make it difficult to say anything definitive about sports uniform absolutes, this very well may be the only instance of a state outline as a letter. I've never seen it anywhere else and certainly not in the most popular and well-covered sports in this country.
Whenever a new uniform design is unveiled, I'm always interested to see if it has some element I've never seen before. But when you really think about it, a truly unique new uniform element is incredibly rare. To see a real sports uniform first, it's a lot easier to go back in time rather than forward. Going back to Terry Haute, IN circa 1979 yields the incredibly rare case of using the shape of a state as a letter on a jersey. Granted, Indiana State was no stranger to bizarre uniform decisions, such as pairing plain jerseys with pinstriped shorts. But as I said, I can't think of any other example of the state-outline-as-letter style, which was even immortalized on a Bird starting lineup figure (how sweet is that?!). Indiana State still uses the state outline as part of its logo, though sadly it no longer forms the letter "I" on their jerseys.
While the use of a state outline on a jersey is rare, its appearance in other areas of sports aesthetics is more widespread. Without leaving college basketball, one major example is the use of the state outline as part of the midcourt logo design. Some of the most storied college hoops programs employ this design, including North Carolina and Indiana (here's an older version), for which it has become iconic. I think the state outline midcourt design is a really cool look, especially when it isn't comically large (see the Texas schools below). The Big Twelve is a breeding ground for midcourt state outlines with three current schools sporting the design. Missouri used to have a simple outline, but recently has obscured it with the school's tiger logo. In-state rivals Texas and Texas A&M (sublimated) have dueling state outline court designs, true to the notion that everything is bigger in Texas. The only other borderline current example I came across (bearing in mind that there are over 340 teams in Division I and I probably missed some) was Michigan State, which has two state outline logos on the court but not at midcourt
That rounds out the list of current state outline court designs (to the best of my knowledge), but it is not the complete compilation of historic examples as a number of schools used to have the design but don't anymore. Tennessee is a recent convert, while Kansas replaced its state outline-flag combination design with a gigantic jayhawk when Bill Self took over in 2003. Ohio State and Oregon are other examples. One interesting case is Kentucky, which appears to have taken its 1977-78 team photo on a court with a midcourt state outline. However, those photos feature a brick wall in the background which probably indicates that it was taken at a practice facility – though it's certainly possible that the practice court design mimicked the actual court design at Rupp Arena.* Without conclusive photographic evidence, it remains a mystery.
In addition to their appearances on college basketball courts, state outlines have also been part of logos for a number of professional sports franchises with at least one example from each of the four major U.S. leagues. In the MLB, the Minnesota Twins shake hands in front of the state outline, while the Texas Rangers used to have a couple of different state outline logos. In the NHL, state outlines appear on the secondary logos of three teams – the Tampa Bay Lightning (old logo too), the Phoenix Coyotes, and the Dallas Stars – though interestingly, none of them have an actual state in their name. (The New York Islanders' logo does not technically qualify, but is worth mentioning because of the outline of Long Island in it). In the NBA, the Golden State Warriors used to have a very cool logo with the outline of California along the left side. Finally, in the NFL, the Dallas Texans (who later became the Kansas City Chiefs) had a couple of logos with the outline of Texas, including a very nice helmet design. And speaking of the Chiefs, they probably take the cake in state outline history by taking it up a notch and including the entire Midwest!

(Update: The University of Kentucky added new uniforms in the middle of the season which featured a small blue state outline under the collar and above the player name on the Wildcats' jerseys.)

(Update 2: I've come across a number of state outline examples in different sports since this column. It seems that state outlines have a major presence on college football helmets historically, including Indiana State's current and former helmets, Virginia Tech's old helmets, Kentucky's former helmets, and Utah State's old helmets. The Wilmington Blue Rocks (minor league baseball) also have a logo that includes state outline. Finally, it appears that Oregon has included a shoutout to the state outline court design on the concourse of their new arena.)

* Thanks to Ivan Reifman of the excellent Basketball Court Designs blog for pointing this out to me and for providing assistance in coming up with some state outline examples.

Photo Courtesy of Politico.com