Kicking It Old School: Part 1
September 15, 2008 | Kevin Zdancewicz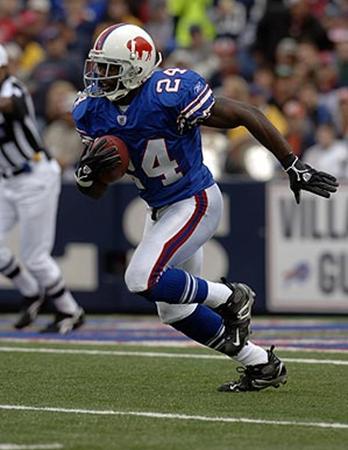 Throwback jerseys have become a huge hit in sports in recent years, on the field as well as in the streets where old school gear has become a major fashion trend. Originating in Major League Baseball with "Turn Back the Clock" nights, there are now plentiful examples of retro uniforms from all of the major sports leagues. In an effort to give a rundown on the throwback phenomenon, JOTW is going to take a look at each league one at a time in a multi-part series which – sort of like the Iraq war – has no real timeframe for completion.
With the National Football League just getting started, we'll begin with professional football throwbacks. The featured photo is of the beautiful Buffalo Bills throwback to the 1960s. You gotta especially love the simplicity of the helmet for a retro jersey, given how complex and detailed some helmet logos have become in sports nowadays. There have even been rumors that the Bills might go back to these jerseys full time, though that seems unlikely since their current, ugly uniforms (honestly, what the hell is going on with those?) were only redesigned in 2002.
One of the other interesting related facts in the NFL is that in the last two decades, the two New York teams have gone back to previous logos and uniforms as their standard sets: the Jets in 1998 and the Giants in 2000. Somewhat similarly, the San Diego Chargers started wearing powder blue throwbacks and liked them so much that they changed their regular helmets from navy to white so that they could rock the throwbacks more easily.
For the whole 2002 season, the Redskins wore 1960s-era jerseys at home to commemorate their 70th anniversary and last year rocked throwbacks modeled after the uniforms their wore in 1970 and 1971. That has been much more of the custom in the NFL: teams wearing throwbacks once or twice a year as an alternate uniform set. Some of the other teams that have donned throwback jerseys in recent years include (but are by no means not limited to) the Eagles, Steelers, Cowboys, and Jets (wearing uniforms from when they were called the Titans).

Photo Courtesy of BuffaloBills.com