Kicking It Old School: Part 4
April 14, 2009 | Kevin Zdancewicz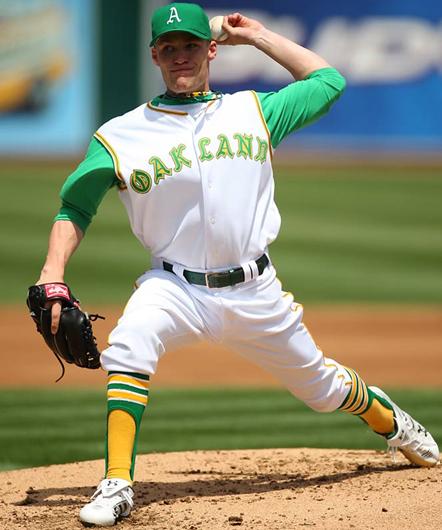 Throwback jerseys have become a huge hit in sports in recent years, both on the field and in the streets where old school gear has become a major fashion trend. There are plentiful examples of retro uniforms from all of the major sports leagues and in the fourth installment of JOTW's Throwback Series we take a look at baseball.
The long, 162-game schedule that Major League Baseball teams play lends itself especially well to the incorporation of throwbacks, as well as other special uniforms (like San Diego's annual camo jerseys) and various alternate jerseys. Some teams have taken to implementing throwback uniforms as yearlong alternates, such as this Minnesota Twins look and powder blue-based designs for the Toronto Blue Jays (full-scale) and the Kansas City Royals (just a jersey, which I think looks really cool as an alternate with the darker blue hats).
The feature photo comes from the Oakland A's, who possess a ton of possible throwback options given their unique colors and unique designs historically. The highlight, of course, is the green-stirrups-with-yellow-sanitaries combination that the team still uses (at least when players actually show their socks). The Houston Astros are always a throwback staple with their "tequila sunrise" jerseys (Yup, they really wore that uniform). Other personal favorites include the solid-mustard San Diego Padres and the Texas Rangers as the Washington Senators. Here's a small gallery of some other designs.
Because of the baseball's longevity as a professional sport, major league franchises have the ability to wear throwbacks from as far back as the early 1900s. Another unique option is honoring Negro League teams with throwbacks. These examples bring up an important aspect of wearing retro uniforms on the diamond. More than in any other sport, the key to pulling off a throwback in baseball is getting the historical details correct. Throwbacks should include correct logos, striping, piping, and patches. Jersey styles matter: early 1900s jerseys were baggy, 1970s and 80s uniforms were not. Most importantly, socks and stirrups should be correct and worn in such a way that accurately reflects the style of the time period. As nice as these Negro League throwbacks are, it doesn't feel right without the pants hiked up to the knees and without some of the socks showing. I love these St. Petersburg Pelicans jerseys (especially that awesome chest insignia) that the Tampa Bay Rays wore, but the pants-draping-over-the-cleats look is a modern style that takes away from the throwback concept. It seems retro uniforms are here to stay, so let's hope teams pay attention to the little things in order to make each throwback a true homage to teams of the past.
Photo Courtesy of SI.com