Talkin' Socks (and Stirrups)
April 21, 2008 | Kevin Zdancewicz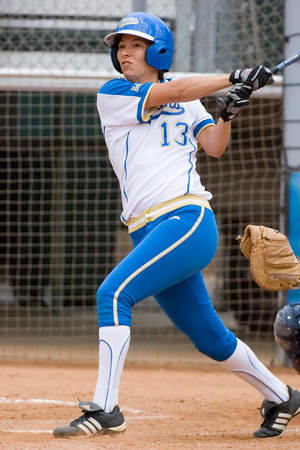 Softball uniforms have always perplexed me. Most teams have long pants, but some have shorts. Some players wear visors in the field, but headwear isn't mandatory across the nation or even uniform for the whole team. Plus the colored pants look is in full swing for some unknown reason. It just seems like softball uniforms lack the tradition and regulation that we are so used to in other leagues, which sometimes leaves the sport's jerseys less than pleasing to the eyes.
UCLA (featured above) has an interesting blend of contemporary jerseys and retro pants, as the belt-less, three-color-striped elastics were prevalent in the MLB in the 1970s and 1980s. The main reason to highlight these jerseys, however, is the white stirrup with white sock look. The Lady Bruins seem to have done this for quite some time and the white-on-white harkens back to the Chicago White Sox from 1917-1945. But it sort of defeats the purpose of wearing stirrups if they are the same color as the sanitary socks underneath. Sure, there is blue trim around them which kind of syncs up with the side piping on the jersey and at least sets them apart from the rest of the nation, but why stop with the blue outline? Why not go a step further and put blue stripes around the stirrups or even pair the white stirrups with blue sanitary socks like the White Sox did for a couple of years. It's not like softball has the rich uniform history that baseball does, so taking some colorful allegiances wouldn't be disgracing the legacy of the uniform (as it could be argued the White Sox did on a number of occasions).
Other than that two year experiment by the White Sox, the only example of colored stirrups and sanitary socks that I could think of is the Oakland Athletics, who still technically employ this look though you couldn't tell from the baggy pants down past the ankles and the solid socks that have replaced stirrups in the last decade. It seems interesting that so few teams have gotten in on the colored sanitary look, especially the Pittsburgh Pirates during the 1970s.

(Update 1: It turns out that colored sanitary socks were big in California, as the San Diego Padres rocked yellow sanitaries for a while and the San Francisco Giants wore orange sanis for a few years in the late 1970s. It's also interesting to note from these links that it appears neither team had a gray road uniform during this period of time.)
(Update 2: Upon further research it appears that I should have done some more extensive research on colored sanitaries. The Milwaukee Brewers joined in on the action with yellow undersocks in the mid-70s just prior to introducing one of the coolest logos ever)