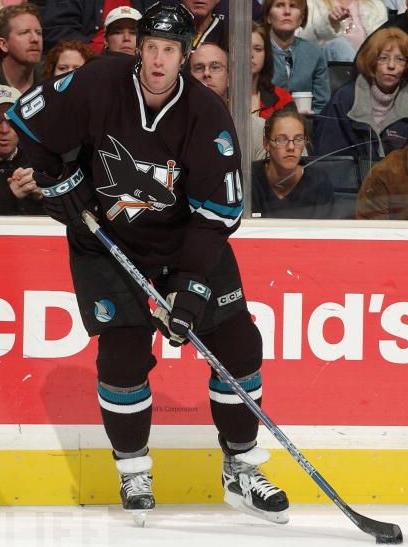 Covering sports uniforms is a lot more dynamic than one might think. I have written over 40 JOTW columns and I always seem to stumble upon updates or things I missed regarding the uniforms I have highlighted in them. In order to keep you completely informed on these topics, I've compiled a list of updates for previous columns. The switch from Fanatic to Wahoo Wire didn't preserve the JOTW archives, but they are available on another site so I've linked to the column being addressed there followed by the update or other pertinent information. The featured photo depicts the San Jose Sharks' third jersey set circa 2001-2007. It's always been one of my favorite uniforms with the solid shark logo, awesome dorsal fin secondary mark on the shoulders and pants, and the way the teal and white pop off the solid black base. Enjoy the updates!
JOTW: The Best Players, Not the Best Uniforms
In this column, I talked about how the Pro Bowl uniform designs always look ridiculous because of seemingly ultra-modern aspirations that result in offbeat jersey templates. Well, the 2009 versions for the AFC and NFC were no different. I'm not a fan of the two-tone, bib look, and it's interesting to note the star patterns integrated into the jersey fabric.
I mentioned in this column that I liked how the raptor on the original Toronto jerseys had a unique "R" jersey that the team doesn't actually wear, similar to how the dolphin in Miami's football logo has an "M" helmet that doesn't really exist. Well someone designed new logos for all of the NFL teams with animal mascots modeled after the Dolphins' logo. Very cool!
Yes, even the first update column has updates. In that article, I mentioned that while looking for documentation of NFL teams that wore blue pants for JOTW: A Blip for the Blue and Silver, I found out that the Denver Broncos wore orange pants for a year. I've finally come across a photo of the orange pants in game action.
After highlighting the pink jerseys being worn at NC State and other women's college basketball teams, our own Virginia Cavaliers wore pink uniforms and shoes to promote breast cancer awareness.
This year, both Alabama and DePaul switched to uniforms without retro stripes (thanks to UniWatch for those comparison photos), but Penn State picked up some of the slack with a modern take on the style. The Nittany Lions actually wore those uni's last season as well, but I was unaware and did not include them in that column. Also, college retro stripes are spreading to the gridiron where the Temple football team used a variation on their pants, possibly as a throwback to these uniforms from an undetermined year. I'm not sure they translate quite so well to the football field.
JOTW: Red and Black (Not White) All Over
I neglected to mention the Philadelphia Phillies in this column as a team that once wore dark pants in the major leagues. The Phils rocked an all-maroon look in 1974. One team I did reference was the Oakland Athletics, but I only linked to mannequin illustrations of their colorful uniforms throughout the 1970s. Here's a more realistic depiction of their gold jerseys with gold pants.
If you're wondering what crazy combinations the Oregon football team wore this season, look no farther than the Ducktracker. You can click on each illustration to see an action shot from each game.
JOTW: Going Gray
I am sure to come across a number of other gray college basketball uniforms, but this is the first since my Seattle U article: the University of South Carolina-Upstate.

Photo Courtesy of Life.com