A New National Color?
March 31, 2008 | Kevin Zdancewicz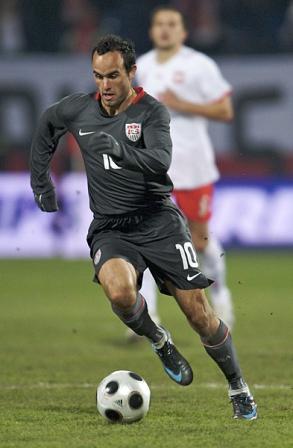 It's a general rule of thumb that if you can't define what your team's new color is, it's generally an ineffective uniform change. Case in point: the Seattle Seahawks redesign in 2002. If you want to make matters worse, take something with clearly identified and recognized colors and go against that. That's exactly what has happened with the U.S. men's national soccer team and their new away kit featured above. Good luck figuring out what to call that hue. Some say it's gray, others say black and apparently the official name is anthracite.
What can be said for sure is that it doesn't really look good and, more importantly, it doesn't represent the United States. I wouldn't mind going with a simple jersey; in fact, I think soccer kits look best when they limit excessive border trim and patches of color. But at least make it navy or red. The gray jerseys look more like warm-up shirts or at the very best part of a goalie's uniform (which are a different color than the rest of the team, if you are a non-soccer fan). Worsening the problem is the fact that the national team had some beautiful away kits last year and the redesigned home jerseys look like golf shirts that pale in comparison to last year's home whites. Why not keep the 2007 kits around another year?
I know that soccer jerseys change often in all levels of play, but that shouldn't force teams to scrap solid designs that look great on the field. And in terms of national teams, there's no excuse for neglecting the colors of that country's flag. The women's U.S. soccer team unveiled new gold jerseys for the World Cup last year, a pretty cocky move given the color's champion connotation and another example of United States soccer moving away its national colors (which are red, white and blue in case Nike is reading). The whole point of defining national colors is to form an identity for a country's citizens to rally behind. So until we add gray and gold to the American flag, let's stick to red, white and blue on our soccer jerseys.