UVA's Laxed Look
April 7, 2008 | Kevin Zdancewicz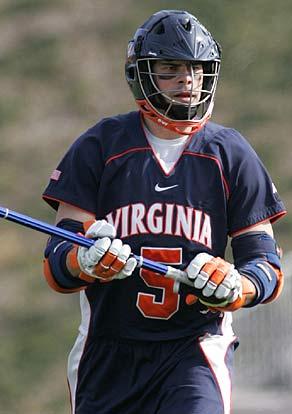 This week's jersey comes to you all the way from Klöckner Stadium. Already familiar to anyone who has been following the Virginia men's lacrosse team's so-far successful season, featured above is the squad's blue away jersey. I really like the overall layout of the jersey and especially think it looks good on the navy base. The white side panel gives the uniform a little flavor without being outrageous (we'll get back to that in a minute) and the orange piping is more subtle than the navy piping on the team's all-white design. This home look isn't bad, but the lack of color down the side gives off a spider-web vibe and feels a little too plain, like the jersey was paint-by-number and the artist ran out of navy blue. The all-orange set would be a little too much if the Hoos had the same orange helmets as last year, but looks pretty solid with navy headgear. In any case, at least the current uniform is better than this (note especially the helmets – look how far we've come in fifteen years!).
Just as it is one of the top teams in the Division I lacrosse rankings, Virginia is at the head of class in terms of uniforms as well. While a number of teams sport the same jersey template as UVA, including Johns Hopkins and UNC (notice the empty effect of their whites as well), the Cavaliers blow teams like Maryland, Syracuse and Duke out of the water in terms of their aesthetics. We'll see whether the team's advantage in looks turns into an advantage on the field en route to the NCAA Championship at the end of May.


Photo Courtesy of InsideLacrosse.com